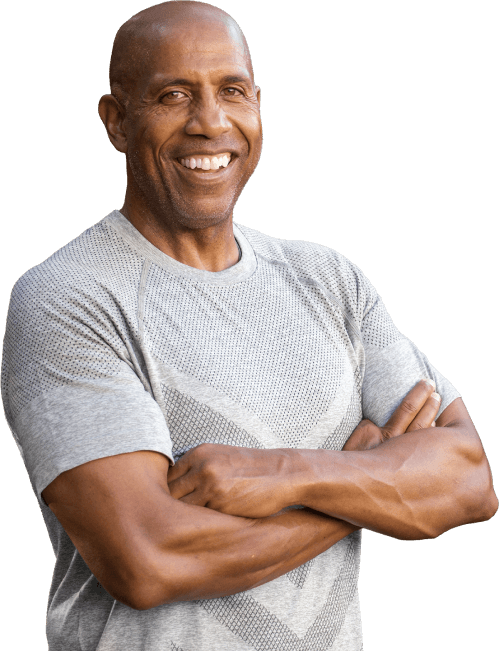 You can't put your finger on it, but something feels off. Perhaps you're more tired than usual or struggling to recover after working out. Maybe you've noticed more stray hairs left behind on your comb and pillowcase. It could be that sex doesn't feel as interesting as it used to, or your moods have taken a turn for the worse, or you can't remember the last time you got a good night's sleep. Whatever you're feeling, let's talk.
The Men's Clinic was established to provide the highest quality of men's health services available in South Carolina. We are passionate about helping men prioritize their well-being and rediscover the best version of themselves. Our clinic is devoted to offering education, personalized treatments, and an experience that is comfortable and empowering. There is no "one size fits all" approach here. From your very first visit, you will be seen as an individual and given a customized treatment regimen developed around your specific symptoms and laboratory results.
It's time to get back to feeling your best. Call The Men's Clinic at 803-875-MENS today to schedule your one-on-one consultation with Dr. Bouknight.
Dr. Bouknight and his team at The Men's Clinic are devoted to your total well-being. We understand that different aspects of your health — the physical, the mental, and the emotional — are intricately connected and must be considered as a complex, interdependent system. Enhancing your vitality may require a multi-faceted treatment approach and adjustments along the way. Dr. Bouknight is your partner in navigating your route to optimal wellness.
Your treatment regimen will be based on your individual needs. Once it begins, your medical team will stay up-to-date on your progress with regular check-ins. You will receive a call from us each month to find out how things are going and answer questions you have about your treatment. You will also have unlimited access to us in the form of phone calls or visits if concerns arise.
Every three months, we will conduct a follow-up lab panel to monitor your vitals, hormones, and other lab levels. Dr. Bouknight will use the results of these tests to ensure your therapy is appropriately prescribed and optimally working for you. If something isn't right, he may adjust your dose, try a different schedule or recommend a different treatment approach. These follow-up tests will move to every six months once the most effective treatment regimen has been identified. We want to be sure your treatment is delivering results and Dr. Bouknight will make every adjustment necessary to get you there.
We don't just offer effective treatments. As a patient of The Men's Clinic, you can also expect…
In too many practices, patients are shuffled in and out of exam rooms and have only a few minutes with their provider before they're sent on their way. They are often left with more questions than answers and don't know where to turn for the information they need to understand the complexities of their health. At The Men's Clinic, you have direct access to your physician and will never feel like you're just a number.
We want to break down barriers to receiving medical care. With that in mind, we created a scheduling system that eliminates wait times at the office. When you sign up for a membership at The Men's Clinic, you skip the line by choosing your ideal appointment time — we'll adjust our schedule to yours, not the other way around. We also have a partnership with Quest Diagnostics that allows you to visit a local facility to provide your blood sample. Let us know if this is more convenient for you than coming into our clinic and we'll make arrangements.
If you're concerned about your health, you shouldn't also be concerned about what it will cost to feel better. All of your services at The Men's Clinic are included in your membership fee. Your consultation, your initial lab work, and your follow-up tests are covered, so you can receive the treatment you need without worrying about hidden fees or surprise charges.
We know your health concerns may be sensitive in nature, and that it can be uncomfortable or embarrassing to talk about your body. Dr. Bouknight and The Men's Clinic team maintain the highest levels of professionalism and confidentiality. We go above and beyond to provide a discreet and comfortable patient experience. You deserve to feel safe, relaxed, and respected so you can speak openly about your health issues and get the attentive care you need.
We value your health as much as we value our own. Dr. Bouknight and his staff maintain a friendly, open, and supportive environment in which all patients are treated with empathy and understanding. You can feel confident knowing your health is in the hands of a medical team who understands you and genuinely cares about you. We are your teammates through every step of your health journey.
Find Your Full Potential at The Men's Clinic
At The Men's Clinic, our goal is to empower men to take control of their health and improve their vitality. We know that, as a man, you have unique needs when it comes to medical care and we are ready to address them. In addition to treating symptoms and conditions that stop you from living your fullest life, we work with you to help prevent them from happening in the first place. Our specialties include hormone imbalance, sexual health, fatigue, hair loss, weight management, sleep disorders, mental performance and aging well.
Whether you're experiencing symptoms that concern you or you just don't feel as good as you think you should, we are here for you. Book an appointment at The Men's Clinic today for a comprehensive health assessment. During your first appointment, we'll gather a baseline of health information for your vitals, bloodwork, and hormone levels so Dr. Bouknight can devise a personalized plan of treatment. Call us today at 803-875-MENS to start the journey to uncompromising health and wellness.