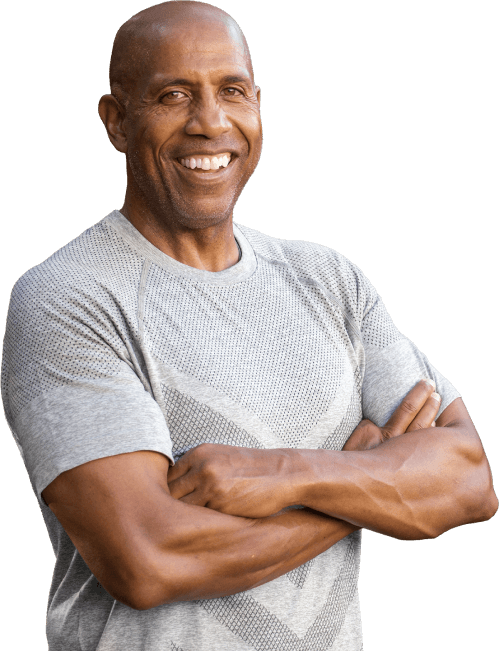 Feel better, look better, live better.
There's nothing generic about you, so why settle for general medical care? Here at The Men's Clinic in South Carolina, we're experts in men's health. We believe all men deserve to live their best life, and that achieving optimal health and wellness requires treating each patient holistically. To realize that goal, we take a personalized and science-backed approach to men's healthcare that is professional, convenient, and confidential. Our practice maintains the highest medical standards while offering men a comfortable environment in which they can speak openly about their health concerns and get the comprehensive care they need.
Dr. Bouknight and his team at The Men's Clinic are devoted to your total well-being. We understand that different aspects of your health — the physical, the mental, and the emotional — are intricately connected and must be considered as a complex, interdependent system. Enhancing your vitality may require a multi-faceted treatment approach and adjustments along the way. Dr. Bouknight is your partner in navigating your route to optimal wellness.
Your treatment regimen will be based on your individual needs. Once it begins, your medical team will stay up-to-date on your progress with regular check-ins. You will receive a call from us each month to find out how things are going and answer questions you have about your treatment. You will also have unlimited access to us in the form of phone calls or visits if concerns arise.
Every three months, we will conduct a follow-up lab panel to monitor your vitals, hormones, and other lab levels. Dr. Bouknight will use the results of these tests to ensure your therapy is appropriately prescribed and optimally working for you. If something isn't right, he may adjust your dose, try a different schedule or recommend a different treatment approach. These follow-up tests will move to every six months once the most effective treatment regimen has been identified. We want to be sure your treatment is delivering results and Dr. Bouknight will make every adjustment necessary to get you there.
The Men's Health clinic sees patients seeking help with a variety of symptoms that affect men's physical, mental and emotional well-being, including:
Low energy levels
Lack of drive and motivation
Struggles with concentration or memory
Weight gain or difficulty losing weight
Loss of muscle mass, strength, and endurance
Mood changes, anxiety, and depression
Low libido
Decreased sexual performance
Difficulty sleeping
Changes in the skin, hair, or nails
Testosterone is the primary male sex hormone. It is made in the testicles and, to a lesser extent, the adrenal glands, then secreted into the blood where it acts as a chemical messenger that stimulates specific actions in the body. Testosterone is involved in the development of the sex organs and secondary sexual characteristics. It also plays an important role in sex drive and performance and in a variety of essential bodily functions.
Testosterone naturally declines with age. This natural loss is compounded by health and lifestyle factors that can lower testosterone levels even further. Low testosterone (Low T) has been associated with a range of symptoms, including decreased libido, diminished muscle mass, increased body fat, depression, fatigue, and hair loss. Testosterone replacement therapy can help address these symptoms and restore the vitality and performance men enjoy when they are younger.
For some men and their partners, premature ejaculation (PE) is only an occasional nuisance. For others, it is a source of lifelong disappointment, embarrassment, frustration, and shame. PE can make sex less satisfying and enjoyable and can lead to avoidance of physical and emotional intimacy. Men who struggle with PE fall into two categories: those who have struggled with premature ejaculation since their earliest sexual experiences and those who develop issues later in life after years of normal functioning.
Although many men find it difficult to talk about PE with a doctor, it is a treatable condition with the right approach. PE treatments can enhance function and duration, making both you and your partner happier in and out of the bedroom. We work closely with our South Carolina patients to diagnose the unique causes of PE for each individual and to identify effective treatments that will promote enhanced sexual pleasure for both partners
Erectile dysfunction, sometimes referred to as ED or impotence, is characterized by an inability to develop or maintain an erection during sexual activity. This difficulty can be caused by a range of factors, both physical and psychological. Many things that are unhealthy for the body generally — like obesity, tobacco use, sleep disorders, and overconsumption of alcohol — also impact the body's ability to maintain an erection. Erectile dysfunction is also linked to specific medical conditions, including heart disease, diabetes, high cholesterol, and some prescription medications. Other causes of ED arise in the brain, such as stress, anxiety, depression, and low self-esteem.
Addressing erectile dysfunction effectively requires consideration of all of these factors. The Men's Clinic recommends ED treatments based on each patient's individual needs. We work closely with our patients to find solutions that optimize sexual performance while improving their emotional health, their relationships, and their self-esteem.
What Makes The Men's Clinic Different
Our team of medical providers is focused solely on working with male patients seeking to improve their physical and mental health. We recognize that many of the problems our patients bring to us are deeply personal and can be uncomfortable to talk about. In recognition of the unique challenges men face when seeking medical care, we hold ourselves to the highest standards of professionalism and discretion. We are committed to providing results using proven, state-of-the-art medical treatments in a setting that is specifically designed to make men feel relaxed and safe. We work closely with every patient on a one-on-one basis, creating an ongoing dialogue around their assessment, treatment, and long-term well-being.
Schedule a Consultation at The Men's Clinic Today
Our passion is making a difference in men's lives. At The Men's Clinic of South Carolina, we get to know you on a personal level and provide you with the care you need to live your healthiest life. We don't just offer quick fixes — we empower you to continue your health journey in a rewarding, sustainable way. We believe providing targeted solutions for men is an essential step in closing the gender health gap and helping our patients rediscover their best selves. Call 803-875-MENS to request your confidential consultation with Dr. Daniel Bouknight today.